Chicago Blog & Travel Guide
Concerts
Chicago & Jazz music are both historically enjoyable, put them together & you have the makings of a memorable evening.  Plan on hitting up any of these great clubs…
Enriched with a lengthy life span dating back to the Prohibition Era,  the jazz is showcased no better at any other venue than the Green Mill Lounge.  In fact, its legacy dates back to 1907 and was a hangout for infamous mob boss Al Capone.  Today, they display not only some of the best live jazz music in the city, but they also function as an excellent cocktail bar as well.  Music usually begins around 9pm, so check out the atmosphere at 4802 N. Broadway Ave. soon.
In the 3rd largest city in the U.S… sometimes smaller & cheaper is better for exploring live music venues, here is a list of our favorite little concert halls for you to discover….
The Empty Bottle is nestled in Bucktown on Western Ave. & Thomas St.  This place embodies the essence of a comfortable divey bar with a great sound quality, cheap drinks, and uncommonly friendly staff & service.  The pool table, an old couch, some vintage arcade machines, whiskey specials, bathroom graffiti, and solid bands are huge pluses.  In addition, Bite Cafe is part of the Bottle and serves up some unique yet savory munching options.
Take a trip to Chicago & visit any of these popular festivals…
Grant Park hosts the FREE 29th Annual Chicago Blues Festival.  The festival kicks off Friday June 8th at 11am and runs until June 10th, expect food & beverage vendors as well as a vast array of excellent blues musicians.
In need of cheap, accessible, social, yet modern accommodations in light of the upcoming music fests? Book with us for any of these upcoming events…
Yep, the ultimate indie fest in spacious Union Park bestows itself upon Chicago with another incredible lineup.  Indulge in the 3 day excursion, or choose your favorite day to attend.  Pitchfork Music Festival 2012 will surely impress any music enthusiast,outdoor fest fan, or lover of up & coming music.  July 13th-15th.
Welcome to a perfect city for LIVE MUSIC, whether you're in the market for a small & intimate venue OR a sprawling outdoor fest, you've touched down on the right place…
 Our staff enthusiastically recommends The Empty Bottle, a smaller comfy venue that offers superb sound quality, great bands, cheap drinks, & friendly/efficient service; this place is often left out of the tourists' agenda, and we're giving you a heads up. Oh and they have FREE MUSIC MONDAYS (check their site).  Take a trip just south of Division St. on Western Ave.
Guess who's coming to Wrigleyville, Chicago?
In his first Chicago concert since 2005, Sir McCartney headlines Wrigley on July 31st/Aug. 1st.  Book your cheap accommodations with Chicago Getaway as we are a ten minute trip via public transit from the stadium.  But wait, we personally recommend the cheaper option of purchasing tickets/enjoying the show with 3639 Wrigley Rooftop.  The view is stellar, and the prices are cheaper.  If you wanted to see a baseball game at Wrigley, just wait until you see a concert…
The weather is getting more pleasant, and there's always fun to be had in the downtown area…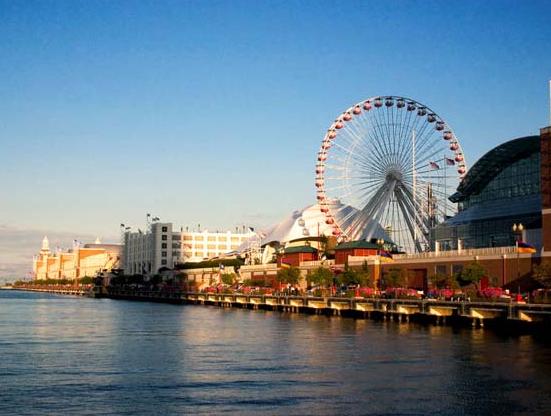 Navy Pier!  Number one on many travel to-do lists, this is Chicago's lakefront playground.  The sight alone is worth the trip down there, and at night it shines bright along the Chicago coast.   Navy Pier features restaurants (we recommend Harry Caray's Tavern),  a giant ferris wheel, an IMAX Theater, Segway tours & a ton of cool boat tours. 
July 15/16/17
Every year we provide our guests with affordable accommodations for Pitchfork Music Festival, this year is no different.  Here's why you should book your room with us today:
Spring has sprung with some upcoming outdoor events…
Want a taste of Germany?  Mayfest delivers heaping servings of brats and beer and live music, it kicks off June 2nd in beautiful Lincoln Square for FREE.  However, Lakeview's Mayfest kicks off May 21st and offers food vendors, a pet parade, as well as some local live bands for $10 admission.
**Any of you wine connoisseurs? Chicago's first annual WINE RIOT is also beginning May 21st and features 250 wines from around the world for your sampling pleasure, and also will boast DJs, food pairings and a photo booth. 
Here at the hostel we're psyched about the TNK Festival coming to Chicago January 12-16th at Lincoln Hall, Metro, and Schubas.  A 5 day pass is $100 and includes an opening night reception, free cocktails, trolley travel between the venues, and a chance to meet some Chicago rock critics.  Otherwise, the shows are $15 a piece.