Chicago Blog & Travel Guide
Museums
The 2nd largest art museum in the United States, The Art Institute of Chicago offers more than 5,000 years of human expression from cultures around the world and contains more than 260,000 works of art.  We have discounted tickets available for $21.00 (regularly $23.00).  Also, our tickets come with the ability to skip lines and see all special exhibits!
Check out their new special exhibit: Impressionism, Fashion, and Modernity.  The last stop on its world tour, the display explores the relationship between fashion and art during these pivotal years not only through the masterworks by Impressionists but also with paintings by fashion portraitists.  It runs through September 29th.   Further enriching the exhibit are fabrics and accessories—lace, silks, velvets, and satins found in hats, parasols, gloves, and shoes—recreating the sensory experience that made fashion an industry favorite and a serious subject among painters, writers, poets, and the popular press.
Take advantage of all our special offers…
Art Institute of Chicago tickets are available at our front desk for the low price of $21.00 (regular price: $23).  This is an all-inclusive pass covering the entire art museum, the Modern Wing, and any special exhibits.  Check out the all new exclusive displays: Impressionism, Fashion, & Modernity and Kara Walker: Rise Up Ye Mighty Race! (best known for her cut-paper silhouettes that critically address race, gender, sexuality, and power).  111 S. Michigan Ave.
-Stop by are front desk anytime, and take advantage of our cheap ticket prices:
*Art Institute of Chicago.
See the Art Institute of Chicago with an all-inclusive pass for only $23.  This gives you unlimited access to the museum, including the brand new Picasso and Chicago special exhibit, and the world renowned Modern Wing.  Plus, an added bonus: You don't have to wait in any ticket lines!  Grab a pass and head to 111 S. Michigan Ave.
Experience the unique urban setting Chicago offers its visitors.  Architecture enthusiast or not, you will be enthralled by the city's vast construct….
Frank Lloyd Wright's influence is a key component in discovering Chicago. Whether its visiting the masterfully constructed Robie House or the immense Rookery Building, you will see why Wright's designs are deemed "cornerstones of modernism" within architecture.  Tours range anywhere from free to $30 per person.
Need an original holiday gift idea?  Curious about local urban art?  Check some of these local artist run shops…
Sometimes messy is good.  Paperish Mess displays a medley of locally crafted items from colorful prints to flashy flasks, original Chicago memoribilia to hand crafted candles.  Located at 1955 W Chicago Ave in the heart of serene Ukranian Village this shop epitomizes local art with a dinstinctively creative flare.  Drop in and say hi to the owners Lisa & Sean and their adorable shop cat, Mishka.
Learn.  Discover.  Explore.  Chicago has numerous museums encompassing art, science, history and more.  We offer the discounted CityPass for the larger museums & towers here by following this link.   If you are interested in some of the smaller museums, here are our recommendations:
The National Mexican Art Museum displays the signature style of a very popular culture in Chicago.  Mexican art is known for its distinct aesthetic affect on sculptures, paintings, and murals.  This uniqueness is on full display at Pilsen's museum, check it out at 1852 West 19th Street.  In addition, there are some incredible family run taquerias in Pilsen, try the excellent La Casa Del Pueblo when you're done exploring art.
Chicago Getaway Hostel has more excellent discounts on major Chicago attractions for you, available at our front desk anytime!
The SkyDeck
The Sky Deck @ Willis Tower=$14.00 (normally $17.50,  save 20%)
It's winter.  What better way to explore Chicago than the wonderful indoor attractions offered through a splendid discount with Chicago' CityPASS. We have it right here at our front desk for $76.00 ( save 50%), and as a CityPASS holder, you have unlimited access & bonus incentives to the following:
The weather is getting more pleasant, and there's always fun to be had in the downtown area…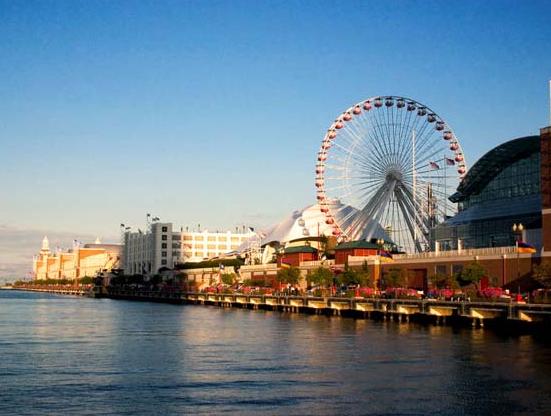 Navy Pier!  Number one on many travel to-do lists, this is Chicago's lakefront playground.  The sight alone is worth the trip down there, and at night it shines bright along the Chicago coast.   Navy Pier features restaurants (we recommend Harry Caray's Tavern),  a giant ferris wheel, an IMAX Theater, Segway tours & a ton of cool boat tours. 
So many museums, so many exhibits, and a whole lot of free days!
Dinosaurs, Ancient Egypt, Lions of Tsavo…sound interesting?  Visit The Field Museum for a trip that's always fun & informative.  Located in the Museum Campus, this place combines history and biology and is well-worth it for any museum enthusiast.  Upcoming free days: Jan: 31st, Feb: 2nd, 3rd, 8th, 9th, 14th, 15th, 17th.