Chicago Blog & Travel Guide
Nature & Outdoors
As we are within walking distance to the lake, this summer is the season where you need to be LAKESIDE, whether at a beach, on the bike/running path….or how about dining……..?
Check out The Dock at Montrose Beach & their menu that boasts beachside compliments like kobe burgers, fish tacos, & tuna ceviche.  Better yet, The Dock is newly revamped and now features a liquor license with about 20 different beers to choose from.  This lakeside eatery is located north of Lincoln Park at Montrose & the lakefront.
Summer is upon us and Chicago is the place to be, here are some popular fests to experience this month…
Green City Music Fest
is coming on the popular weekend of June 25th.  With well-known acts like
The Thermals
,
Yo La Tengo
, and
Les Savy Fav
, as well as food vendors and a small $5 admission fee, this festival is a good idea for anyone wanting to see the city as well as the hip neighborhood of Wicker Park.
Check out Taste of Randolph St.…why because? Well, this fest focuses on the culinary creations of some of Chicago's great restaurants surrounding the area.  Good music, good food, and a good neighborhood…June 17th is the kickoff date…900 W. Randolph St.
Beach season has finally bestowed itself upon our city once again, take advantage of these great locations…
North Ave. Beach is one of the city's most popular sunny summer spots.  This beach also offers a fair share of lakeside amenities: a restaurant/snack bar, chess, volleyball, as well as the popular Castaways Beach Bar.  Better yet, this beach is within walking distance of our hostel.
Later this month, beautiful Lake Shore Drive is cleared of all cars for your pedaling pleasure…
Bike The Drive 2011 happens May 29 & the drive closes early at 5:30am to traffic, so you'll be able to catch the sunrise during a 30 mile stretch of open road.  This event is $42 and includes a number, a wristband, a free tee shirt, as well as access to the post ride festival which includes breakfast, live music, and various vendors…sign up now.
The weather is getting more pleasant, and there's always fun to be had in the downtown area…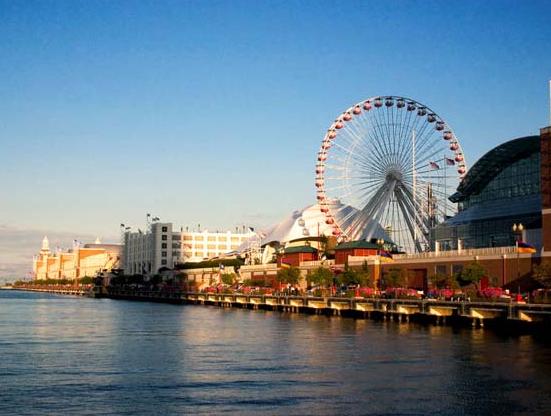 Navy Pier!  Number one on many travel to-do lists, this is Chicago's lakefront playground.  The sight alone is worth the trip down there, and at night it shines bright along the Chicago coast.   Navy Pier features restaurants (we recommend Harry Caray's Tavern),  a giant ferris wheel, an IMAX Theater, Segway tours & a ton of cool boat tours. 
*Bike rental fees:
Half Day (3 hrs or less)- $20.00
Full Day (3 hrs or more)- $30.00
See why our neighborhood is the BEST for bicycling as we are just a 5 minute cruise from the beautiful lakefront path.  An 18 mile naturally aesthetic path spotted with parks, trails, beaches, gardens, and concession stands.  This is a integral part of Chicago you must experience. 
Spring has sprung with some upcoming outdoor events…
Want a taste of Germany?  Mayfest delivers heaping servings of brats and beer and live music, it kicks off June 2nd in beautiful Lincoln Square for FREE.  However, Lakeview's Mayfest kicks off May 21st and offers food vendors, a pet parade, as well as some local live bands for $10 admission.
**Any of you wine connoisseurs? Chicago's first annual WINE RIOT is also beginning May 21st and features 250 wines from around the world for your sampling pleasure, and also will boast DJs, food pairings and a photo booth. 
Come stay at the Getaway Hostel on March 12th and enjoy the festive weekend of river dyeing, parade celebrations, and bar crawling to bring in 2011′s St. Patrick's Day.
Coming to our beloved city in the winter season? Don't mind some cold temps, there is a beautiful side of Chicago to explore this season:
We know that being away from family and friends on holidays can be somewhat depressing (or amazing!).  We gotcha covered- hang on for a fun ride!
Food:
Horizon Cafe- They're open from 8a-7p. Four course dinner & breakfast specials! Easy to get to: Walk to Clark Street and take the #36 bus north bound. Get off at Grace and Horizon Cafe is just a few buildings north.

Deleece- Open for Thanksgiving from 3Pm To 8Pm.  They will be offering a limited version of their regular menu in addition to a four-course prix fix Thanksgiving feast for $35. Easy to get to: Take the #22 Clark bus north from Arlington and Clark.  Exit at Irving Park and walk one block west to Southport.

Kit Kat Lounge- 1/2 price dinner and drinks with a canned good donation!  Open from 53op-2am.  Easy to get to: Walk to Fullerton and Halsted and take the #8 Bus North to Broadway.  Exit @ Waveland and the Kit Kat Lounge is just to your left on the corner. Read more