Chicago Blog & Travel Guide
Restaurants
Where can I get a good Chicago breakfast?  We get that question a lot.  We've compiled our favorite responses for seeking out the tastiest brunch creations.
*Bite Café.
2 words: Pork hash (pulled pork shank, brussels, potato, butternut squash, sage with two eggs and spicy hollandaise, served on toast).  Bite Café will "wow" you with their excellent brunch options, try their take on "breakfast poutine" (french fries, bacon or mushroom gravy, cheese curds, poached eggs, pickled chiles), and they also impress with their vegetarian options like Korean-style "Bi Bim Bop" with braised tofu.  This terrific place is next store to the infamous Empty Bottle, a small music venue which proves to be one of the best live music hubs in all of Chicago.  1039 N Western Ave.
*If you need a place to grab some delicious food and would like to bring along your favorite spirits, look no further than these BYOB restaurants…
5411 Empanadas!
From stellar food truck to popular restaurant, 5411 Empanadas wins us over with gourmet creations like Malbec Beef (shredded beef and sautéed carrots and onions in a Malbec reduction), Caramelized Onion (savory onions & parmesan cheese), Banana Nutella (their delectable sweet treat).  We advise you to bring a bottle of your favorite beverage and take advantage of their newly opened patio right in our neighborhood at 2850 N Clark St.
Yet another reason our neighborhood of Lincoln Park is extremely traveler friendly: we have some excellent, yet affordable restaurant options….
Edzo's.
Craving a burger or some pre-pub grub?  Make Edzo's Burger Shop a pit stop on your itinerary.  Tasty griddled burgers come crisp and perfectly flat from the grill and you can order a single, double, or triple depending on your immediate need for grilled meat.  But, Edzo's doesn't just stop at the burgers, their fries are hand cut fresh and are worth it every time.  Also, grab a delicious hand-dipped milkshake in an assortment of flavors: Vanilla, Chocolate, Banana, Hot Fudge, Nutella, Oreo, Peanut Butter, Maple, Coffee, 2218 N. Lincoln Ave. Average: $7.00.
Let's embrace the city sun this summer & have some delicious food and drinks at these great patios:
BIG STAR.
In the heart of Wicker Park, Big Star serves some of the best gourmet tacos we've had.  Whether its their perfectly marinated pork belly, or their unforgettable Tacos de Pescado (fish tacos), their menu also boasts $3 whiskey shots & $2 Tecates which seals the deal when hanging out on their spacious patio.  Although the main outdoor dining area can get insanely crowded, a solid alternative is ordering at the take out window and eating on one of their picnic tables.  1531 N. Damen Ave.
Have a sweet tooth in Chicago?  Check out any of these spots for the best doughnuts, cakes, pies, ice cream!
**Construct your dessert crawl from delicious ice cream in Lakeview to the best Italian ice in Little Italy.**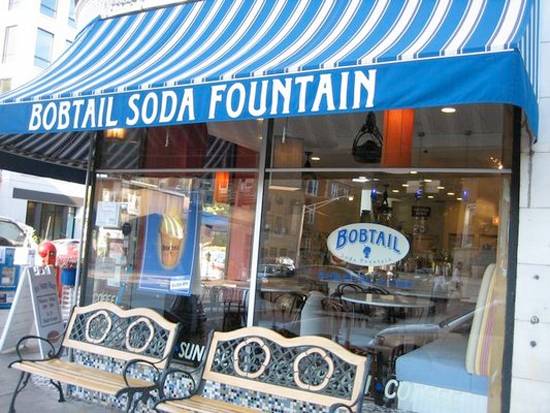 Excellent &  premium ice cream in a charming little shop in East Lakeview, Bobtail Ice Cream is a must-stop on the trail for best desserts.  Stop in for their seasonal special: Summer Peach.  Or, try their Cream Espress, a blend of vanilla ice cream and a double shot of espresso.  Swing by for a treat at 2951 N Broadway Ave.  **Also look out for Bobtail Ice cream vendors in Millennium Park & Grant Park!
**CHICAGO IS BE TAKEN OVER BY SANDWICHES.  DELICIOUS SANDWICHES.**
1. Jerry's Sandwiches: 1938 W Division St, go for the decadent sandwiches, stay for live music & a solid beer list.  The toppings to choose from are almost intimidating: fried green tomatoes, blackened shrimp, English cucumber to name a few.  They have everything from kobe burgers to seafood sandwiches, vegetarian options to delicious mini corn dogs.
2. Del Seoul: 2568 N. Clark St, You cannot go wrong with an express Korean BBQ.  Just a few minutes walk from the hostel, this Lincoln Park hot spot excels in flavor & the welcoming flare of  Korean street BBQ.  Although their array of tacos are nothing short of amazing.  Their BBQ Pork Sandwich is a hit everytime ( lots of marinated pork, sprouts, jalapenos on a tasty roll).  Check this place out with an order of their KimChi fries!
**Warm up with some food & spirits at any of these cozy Chicago taverns….
In a neighborhood to the north, lies a comfortable watering hole called Simon's.  Not only voted for the best jukebox in all of the town, during the cold season they serve delicious Glögg (traditional Swedish mulled wine with spices served warm), the wine comes in both classic red and white.  Check out a local favorite in the charming neighborhood of Andersonville.  5210 N. Clark St.
Chicago has quite a few trademark foods.  We are here to inform you of some delicious encased meats, try any of these outstanding options for hot dogs.
Chicago Dog House.
WHO LET THE DOGS…oh sorry, I will spare you the overused & outdated pop culture reference and instead inform you why you should eat hot dogs at Chicago Dog House.  This place serves some of the best unique & traditional sausages around.  Whether it's the German Shepherd (sauerkraut & swiss) or a perfect Chicago Style (mustard, onion, sport peppers, relish, and a pickle) try this place.  Also, it's a 5 minute walk from the hostel's front door on the way to the train station at 816 W Fullerton Ave.  Try their excellent frips, a cross between a french fry & a potato chip.
The legendary blend of thick crust, melted cheese, and gourmet sauce on top is displayed as one of many reasons Chicago is famous…..we give you pizza recommendations….
Lou Malnati's.
One of the top contenders for Chicago pizza happens to be our staff pick for #1, Lou Malnati's does everything right when it comes to savory pies adding their signature buttery crust that keeps competitors at bay.  Better yet, we have a neighborhood location that's less than a 10 minute walk from our front door, 958 W. Wrightwood Ave.  Price for 12″ one topping: $15.60.
It's winter, let's warm our bellies with a comforting bowl of hot noodles from any of these places that craft housemade noodles:
Urban Belly.
Sharing is fun, mix & match big bowls of homemade noodles at Urban Belly.  Whether you get the UrbanBelly Ramen ( pork belly, shiitake mushrooms, & pho broth), or the delicious Asian Egg Noodles (stir fried with eggplant, tofu, & spicy garlic chili).  They also serve a fantastic dumplings & kimchi.   The restaurant is small with long communal tables, so bring some friends to share some of the most delicious noodles in Chicago.  3053 N California Ave.  Average Entree: $12.