Chicago Blog & Travel Guide
Things to Do
Take advantage of all our special offers…
Art Institute of Chicago tickets are available at our front desk for the low price of $21.00 (regular price: $23).  This is an all-inclusive pass covering the entire art museum, the Modern Wing, and any special exhibits.  Check out the all new exclusive displays: Impressionism, Fashion, & Modernity and Kara Walker: Rise Up Ye Mighty Race! (best known for her cut-paper silhouettes that critically address race, gender, sexuality, and power).  111 S. Michigan Ave.
The perfect breakfast food meets the best city in the Midwest.  Seek out the top Pancake…
Try Pannenkoeken Café!  This Dutch style café is tiny and you may have to put your phone number on a waiting list, but it will all prove more than worthwhile.  The pannenkoekens can be sweet or savory and can be customized to come with an array of options: berries, whipped cream, bacon, Havarti cheese, asparagus or other veggies.  The pancake itself is slightly crunchy and thin, just how they should be, oh, and it covers the entire large plate.  Great coffee too but cash only at 4757 N Western Ave.
Have a sweet tooth in Chicago?  Check out any of these spots for the best doughnuts, cakes, pies, ice cream!
**Construct your dessert crawl from delicious ice cream in Lakeview to the best Italian ice in Little Italy.**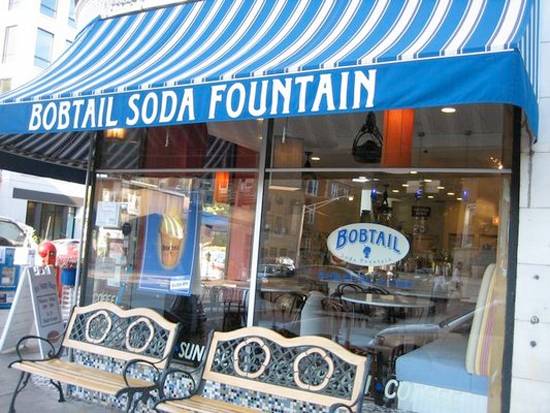 Excellent &  premium ice cream in a charming little shop in East Lakeview, Bobtail Ice Cream is a must-stop on the trail for best desserts.  Stop in for their seasonal special: Summer Peach.  Or, try their Cream Espress, a blend of vanilla ice cream and a double shot of espresso.  Swing by for a treat at 2951 N Broadway Ave.  **Also look out for Bobtail Ice cream vendors in Millennium Park & Grant Park!
Take advantage of our weekly events to accentuate your Chicago experience…
MONDAY.
*Monday Night Blues Bar Outing…follow us to the northside blues mecca, Kingston Mines, we will get you in for FREE and enjoy some excellent live performances.  Good food, good drinks, and darn good blues.  Slip on your dancing shoes and meet us in the lobby at 8:45pm, we'll go as a group.
Chicago is a photogenic city.  Here are some ideas for really capturing the aesthetics of a unique environment…
1. Think: person, place, thing: This old definition of the use of a noun is a handy guide to a great vacation photo: the best travel photos will often be about all three of these.  For example, let's say you want to take a photo of the Cloud Gate at Millennium Park , and it's a rainy day in Chicago. If you pull up your photo and snap the Tower in the gray light, you could get a decent photo.  But if you put your friends in the photo (your favorite people) with the Tower glimpsed over their shoulders (the place of interest), visible just under the rim of an umbrella (a very specific thing that evokes the conditions), you have a great shot.
As more & more microbreweries sprout up in Chicago, we are back to help you choose the best ones.  They generally offer tours, samples, taste tests, and souvenirs; so take into consideration that you have many options, here's to your best hop-infused choices….
Half Acre Brewing Company: Nestled in the Northcenter neighborhood, Half Acre offers tasty beer as well as a perfect microbrewery display.  Take a tour on any Saturday at 11am for only $10 (cash only), included are samples, and a pint glass.  Tours do sell out, so contact them in advance: 773) 248-4038 | hello@halfacrebeer.com, we recommend The Gossamer Golden Ale,  4257 N. Lincoln Ave.
Taste the famous cuisine of our city at any of these highly recommended joints…
1.  Hot Dog!  There are some great options for encased meats and the famous Chicago Style Dog (yellow mustard, chopped white onion, neon green relish, tomato slices, kosher dill pickle spear, "sport peppers", celery salt, on a sesame seed bun).  We recommend our neighborhood Chicago Doghouse for their delicious gourmet take on hot dogs (also, get the frips, a cross between a french frie & a potato chip).  Also, check out the famous Hot Doug's which is notorious for long lines but most excellent hot dogs (they also serve duck fat fries on weekends).  Avg. hot dog: $5.
**CHICAGO IS BE TAKEN OVER BY SANDWICHES.  DELICIOUS SANDWICHES.**
1. Jerry's Sandwiches: 1938 W Division St, go for the decadent sandwiches, stay for live music & a solid beer list.  The toppings to choose from are almost intimidating: fried green tomatoes, blackened shrimp, English cucumber to name a few.  They have everything from kobe burgers to seafood sandwiches, vegetarian options to delicious mini corn dogs.
2. Del Seoul: 2568 N. Clark St, You cannot go wrong with an express Korean BBQ.  Just a few minutes walk from the hostel, this Lincoln Park hot spot excels in flavor & the welcoming flare of  Korean street BBQ.  Although their array of tacos are nothing short of amazing.  Their BBQ Pork Sandwich is a hit everytime ( lots of marinated pork, sprouts, jalapenos on a tasty roll).  Check this place out with an order of their KimChi fries!
-Stop by are front desk anytime, and take advantage of our cheap ticket prices:
*Art Institute of Chicago.
See the Art Institute of Chicago with an all-inclusive pass for only $23.  This gives you unlimited access to the museum, including the brand new Picasso and Chicago special exhibit, and the world renowned Modern Wing.  Plus, an added bonus: You don't have to wait in any ticket lines!  Grab a pass and head to 111 S. Michigan Ave.
St. Patrick's Day Chicago 2013.
On March 17th, all guests of the hostel are invited to meet in the lobby at 8am as we go see the river dyed green and enjoy a few beers. Then we head down to see the St. Paddy's Day Parade and enjoy a few more drinks.  Want to sleep in, take a nap or lose us in the crowd? That's fine!  Meet back in the lobby at 2.30pm for an afternoon of pub crawling as we drink our way through the lovely Irish pubs of Lincoln Park.