The legendary blend of thick crust, melted cheese, and gourmet sauce on top is displayed as one of many reasons Chicago is famous…..we give you pizza recommendations….
Lou Malnati's.
One of the top contenders for Chicago pizza happens to be our staff pick for #1, Lou Malnati's does everything right when it comes to savory pies adding their signature buttery crust that keeps competitors at bay.  Better yet, we have a neighborhood location that's less than a 10 minute walk from our front door, 958 W. Wrightwood Ave.  Price for 12″ one topping: $15.60.
Giordano's
Probably the thickest Chicago pie around, Giordano's also tops the all-time great list for deep dish.  A staple for consistency, Giordano's always delivers fresh & savory ingredients.  In addition, with restaurants plentiful in the downtown area, as well as the northside, this pizzeria also garners praise for its convenience. 223 W Jackson Blvd. or 1040 W Belmont Ave. Price for 12″ one topping: $18.
Pequod's
Understated next to the pizza giants, Pequod's serves most excellent pan pizza. Don't be dissuaded by the burnt edges, it all equals an amazing taste, and Monday-Friday 11am-3pm you can get a personal one topping pizza, a fountain drink or Bud Light for just $4.95.  Pequod's is also a great spot to watch a game, as they present a comfortable sport's bar type atmosphere at  2207 N. Clybourn Ave.  Price for 12″ one topping: $16.75.
Piece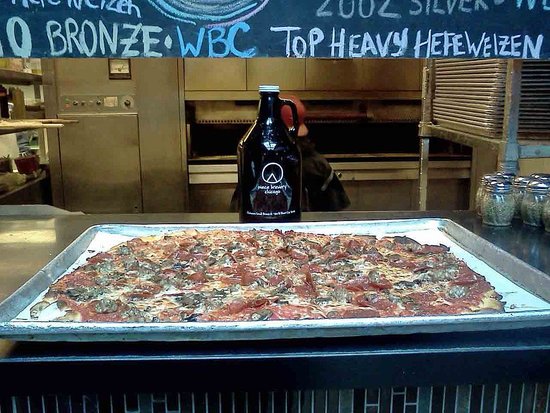 Checking out Wicker Park?  Stop in Piece where the pizza is magnificent, and boasts their signature New Haven style (a generous amount of red sauce topped with garlic, extra parmesan, and olive oil without mozzarella).  More good news: they brew their own beer and now have 8 different brews to choose from, buy a growler (64 oz) for $16 at 1927 W. North Ave. A Medium pizza is $14.95.
Pizza Rustica
Italian style, fired up in a brick oven is how Pizza Rustica prepares its well-known pizza.  The restaurant is a well executed blend of a wine bar, a reasonably priced Italian restaurant, and distinctive pizzeria blended into one great dining spot.  Our staff recommends adding a punch to their Hawaiin style by including jalapenos.  Head north to Wrigleyville at 3908 N. Sheridan Rd.  Medium one topping pizza: $15.75.