Chicago Restaurant – Winter Reccomendations- hostel style!
Mat Meadows (General Manager):
* Mat picks Wilde.  This is an Irish bar/restaurant located in Chicago's must-visit Lakeview neighborhood.  He recommends their signature Mac-n-Cheese( don't forget the meatloaf too!), a very popular dish on their menu.  This place has a cool literary theme that even boasts a library and a fireplace you can dine next to, check this place out north on Broadway Ave.
Jason Shultz (Assistant Manager):
Jason chooses the boisterous Chicago Brauhaus, nestled in beautiful Lincoln Square, this German restaurant never disappoints.  This place has a great house band playing awesome Bavarian music as well as a menu that offers terrific food & beer.  Jason recommends the Goulash.
Daniel Popoviciu (Building Engineer):
Daniel dines at Cafe Iberico.  This is an essential Spanish Tapas Bar featuring excellent dishes and tasty sangria.  Daniel suggests getting the Pulpo A La Plancha (grilled octopus) and the Patas Bravas (spicy potatoes) for a good warm meal.  Check out this inexpensive & fun place off Chicago Ave. on La Salle St.
Vincent Andrew Sassana (Front Desk):
Vincent picks San Soo Gab San because you can grill your own meat! Which is actually very fun when done with friends.  They also give you a ton of little garnishes to have with your meal.  You must try some OB, delicious Korean beer.
Jay Wheeler (Front Desk):
Jay loves Mizu Yakitori.   He says you should try their excellent Yakitori dishes or their delicious meat & vegetable skewers.  Better yet, this Japanese cuisine is within walking distance of our hostel at 315 W North Ave.  Also, you should enjoy one of their saki bombs.
Adam Cifarelli (Front Desk):
When Adam's not tickling babies, he likes to dine at New Tokyo.  He is a big fan of sushi, and tells us that New Tokyo serves up some of the best.  He personally recommends the nagi maki appetizer & their miso soup.  He also likes to stroll the always happening street, Broadway in Lakeview, where his favorite restaurant is located.
David Rafaelli (Front Desk):
David is a huge football/soccer fan.  He likes to go to The Galway Arms.  Why? Well, he can watch sports and eat some great bar food there.  David tells us to get one of their huge & hearty portions of corned beef & cabbage.  In addition, this place is right around the corner from the hostel on Clark St.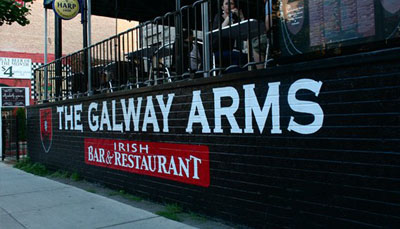 *Thanks for reading our suggestions.  If you need anymore dining tips or some directions- stop by the front desk anytime.