Looking for a delicious & wholesome morning meal?  We get asked a lot.  You never know where the night will take you, but come morning, you can bank on these locations serving some hearty breakfast & brunches; here are our recommendations….
 Welcome to the The Bourgeois Pig, nestled in a quiet nook on Fullerton Ave., this charming little cafe/eatery is a 5 minute walk from our front door.  The menu reflects an extensive line of coffee drinks, memorable smoothies, & some great sandwich items, whether your looking for that hearty breakfast sandwich, or a vegan friendly lunch option.  We recommend the Jamaican Latte (perfect blend of coffee & a little honey) as a formidable day-starter.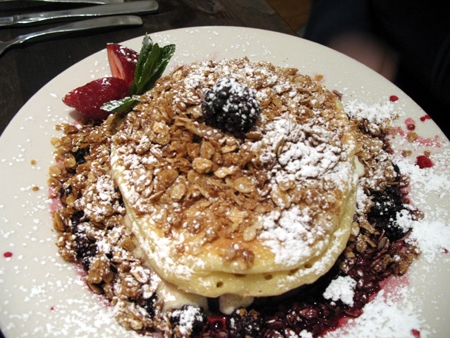 If you find yourself farther north, stop in Andersonville's ever-popular M. Henry for a mouth-watering morning experience.  The infamous dishes are aptly described, and justify the often long lines, try the: blackberry bliss cakes or fannie's killer fried egg sandwich.  If you're in the market for unforgettable breakfasts, look no further than this northside spot.
Also, a short walk from the hostel is Lincoln Park's best 24 hour diner, Clarke's.  In between our hostel & the Fullerton train station, this is an ideal location for good food.  Their omlettes & skillets are excellent menu items, and their bottomless cups of Intelligentsia Coffee will make you not regret your decision.  Whether it's 2am or 9am, this is a solid diner stop.
Hearty is a bit new & still gaining the reputation as being "slap in the face" delicious.  Sunday brunch done right, excellent bloody mary's, and a sleek location near Wrigley Field really sell this place.  We recommend the Morning Shepherd's Pie.
Frasca may be better known for its pizza & wine, but Saturday and Sunday brunch is awesome here.  $14 bottomless mimosas, some great bloody mary's, and some terrific brunch entrees will make you happy you skipped McDonald's breakfast.