Take a quick trip to some of these really cool bars, pubs, and lounges that offer a unique nightlife experience…
*Headquarters Beercade*
Pinball, old school & new school arcade games, and a full bar compromise Headquarters Beercade.  An added bonus is the games are all FREE.  Better yet, join us for our Saturday event where we take you there…just meet in our lobby on Saturday evenings at 8:45pm (must be at least 21 years of age with a valid ID/passport).  Join us to play some classics from Pacman to The Simpsons all while sipping on some great beer and cocktails. 2833 N. Sheffield Ave.
*The Hopleaf*
Looking for a vast beer selection with one of the largest arrays of imported beer in all of Chicago?  Check out The Hopleaf in Andersonville which serves Belgian greats like Leffe, Kwak, Chimay, and local favorites like Revolution, 5Rabbit, Metropolitan, there is never a shortage of choices!  In addition, The Hopleaf offers a very tasty & unique food menu, we recommend the duck confit salad, their signature mussels, and the wood grilled bison carpaccio.  Head to 5148 N. Clark St.
*Empty Bottle*
great sound. check. cheap cover. check. excellent local & nonlocal bands. check. awesome bar. check check check.  The Empty Bottle wins us over as one of the best small venues in the entire city thanks in part to a very friendly staff, and the knack for hosting some of the most intimate & intense live shows.  Oh, and grab some food at Bite Café, an excellent next door restaurant with delicious options every night. 1035 N. Western Ave.
*Piece Pizza & Brewery*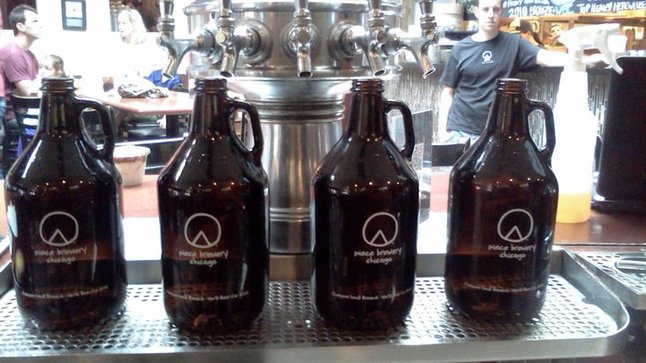 Pizza and beer have always made a tremendous combination.  Piece Pizza adds to the legendary combo by brewing excellent brews and crafting extraordinary pies.  Try their Golden Arm (German Style Kolsch Beir), and order one of their New Haven style pizzas ( sauce, garlic, Parmesan, and oil on a chewy-crisp, hand-formed crust) which also come in individual sizes that start at a mere $5.95.  Also, they sell their beer in growlers (64 oz) starting at $16.  See why they make Chicago's list of 25 Best pizzas at 1927 W North Ave.
*Big Chicks*
Heralded as one of the best gay/lesbian bars in Chicago, Big Chicks is a whole lot of fun. Themed dance parties, a huge food selection, and a great serviced bar…check out the $1.00 burger special on Mondays. This place is versatile to say the least: go their for a few cocktails and awesome bar food, or dance party your legs off to hot music…hit up Big Chicks at 5024 N. Sheridan Rd
*California Clipper*
Jazz bar, cocktail lounge, speakeasy, old-fashioned and intimate- The California Clipper is a lot of things.  If you are looking for a quiet & cozy place for a few drinks while you contemplate your travels, this is the place.  They offer a lot of live and local jazz and blues bands on their small stage, and their cocktails prove hard to order just one.  They make a stiff Old Fashioned that will help take in the mellow tunes.  Check them out at 1002 N California Ave.