Doughnut Shops in Chicago
The doughnut craze has been sweeping Chicago, here's are top picks for fried or baked deliciousness…
Doughnut Vault.
The Doughnut Vault  puts out batches of vanilla glazed, chestnut, buttermilk old-fashioned and other doughnuts of both the cake and yeast variety. But they do so with irregularity, releasing batches at their whim and announcing their existence on Twitter and Facebook, closing when doughnuts sell out. It would be a bit of a pain, if only they weren't so darn good.  Check them out in at: 401 N. Franklin.   You'll recognize the vault…
Glazed & Infused.
A long john with a strip of bacon? How about a cross between a doughnut and a croissant called a "cronut?"  Glazed and Infused serves all sorts of treats, see why they boast themselves as "a re-invention of the iconic American doughnut."  We agree with that statement, and suggest you visit them at 939 W Armitage Ave, close to the hostel!
Dinkel's Bakery.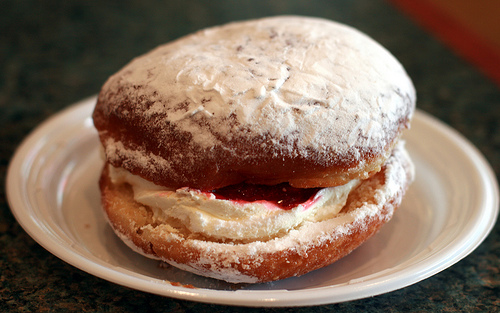 Dinkel's Bakery stands as a Chicago icon.  Opened in 1922, the place still serves tasty creations.  We recommend going for one of their weekly specials: Tuesday is by one/ get one free cupcakes, and Wednesday is 6 of their famous doughnuts for $5.99.  It also helps that their coffee is always fresh and delicious at 3329 N Lincoln Ave.
Mindy's Hot Chocolate.
Mindy's Hot Chocolate is not a traditional doughnut shop as it does serve breakfast, lunch, and dinner, that doesn't mean Mindy doesn't make a mean doughnut: "The doughnuts here are made from brioche dough, fried to order and rolled in cinnamon and sugar. For breakfast, the pastry comes with a side of raspberry jam; during lunch and dinner, the squares are served with hot fudge and caramel corn."  Go for a pastry, stay for a decadent cup of hot chocolate at 1747 N Damen Ave.