As we continue to explore the concept of Chicago as a city of neighborhoods, we must mention Lakeview, a neighborhood positively packed with entertainment.  Whether you want food, drinks, shopping, lakefront activities, or baseball, Lakeview has it all.
In the market for some shopping during your travel?  Look no further than Strange Cargo for some really cool gear: shoes, jackets, & especially graphic tees, they have hundreds of really cool tee shirt designs from your favorite sports teams to your best band and even your fondest author.  Get your custom designed tee shirt here.
Music collectors & record enthusiasts must stop in Chicago's renowned Reckless Records, an emporium filled with cds, vinyl, movies, & magazines.  If you cannot find what you're looking for here, we guarantee you'll find something else you're looking for here.
Arguably Chicago's best coffee, Intelligentsia knows coffee & teas like no other.  Stop off at their Broadway location & buy a cup or a bag & taste why their brew is the elitist among local beans.
Check out a great independent book store in Lakeview called Bookworks. A charming catalogue of books, records, & cds, this place carries a lot of hard to find used items at a great place.  Check out their shop at 3444 N. Clark St.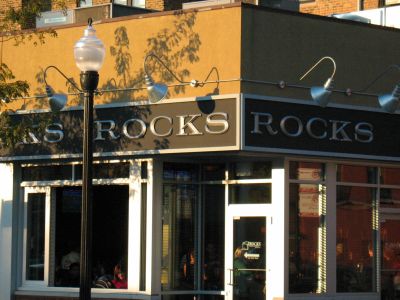 There's no wonder why our manager Mat recommends Rocks for casual dining.  This bar & grill serves some excellent American food.  You must try their delicious mac-n-cheese wedges, wash it down with the beer of the month.