On the subject of discovering some very cool neighborhoods, one must explore the distinct shops, restaurants, and parks of beautiful Lincoln Square.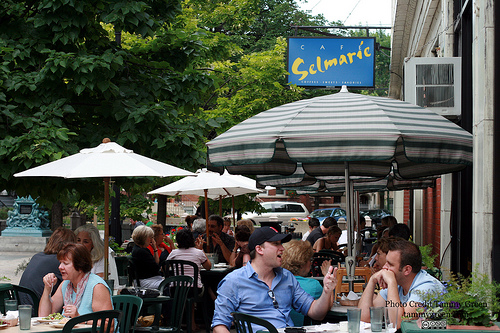 Cafe Sel Marie is located in the central hub of Lincoln Square and has a patio next to a public square on Lincoln Ave, a strip of unique, ethnic, and some family-owned shops to explore.  Not to mention, the cafe's menu boasts pastries & beverages to write home about.
Old Town School of Folk Music is nestled in the south end of Lincoln Square and hosts live performances & workshops, as well as a terrific gift shop ideal for folk enthusiasts.  It is also a stones throw from spacious Welles Park.
Check out Chicago Brauhaus.  A great German restaurant with a superb selection of German beer & cuisine.  The best part is the atmosphere, they have a vibrant house band and their bratwursts are a force to be reckoned with.
Merz Apothecary is an example of the myriad of charming shops on Lincoln Ave.  Stop in to smell some fragrances, or pick up a nice travel gift for your mom.  This apothecary is a great quick stop on your exploration.