As a traveler looking to experience great food, shopping and art scenes, we have some flavorful local recommendations for you.  These local shops are easily top Chicago favorites, and will make great stops on your itinerary…
-Reckless Records
Music enthusiasts, vinyl collectors, movie buffs, and record store nerds can all rejoice in unison cause Reckless Records is the place to shop.  Selling new & used vinyl, dvds, EPs, 45s, cds, posters, and books- this is your one stop music shop that has three Chicago locations.  Better yet, there Broadway location is just a 15 minute walk from our front door at 3126 N Broadway St.  We think your luggage just got a reason to get heavier.  The above photo was taken by/for The Real Chicago check them out for some excellent Chicago recommendations!
- Intelligentsia Coffee & Tea
Patios are opening for Spring and Intelligentsia is a contender for best coffee citywide. Get both sunshine and delicious coffee at this original Chicago brewer, where every cup is brewed to order and quality is top priority.  They generally buy their beans directly from growers in Central America, South America, East Africa, and Ethiopia and are also known for supplying many of Chicago's local cafes with their premium beans.  Grab a cup in Lakeview at 3123 N Broadway.
- Pequod's Pizza
We have covered the best pizza in Chicago before, but Pequod's is a lesser known great that should be on your agenda. We're not hating on Giordano's or Lou Malnati's but Pequod's legendary pan style pizza is uniquely delicious.  Also,  with a "caramelized crust" is the signature way their pies are served, couple that with fresh ingredients and you have an award winning pizza in your hands.  Pequod's is also known as a Chicago Blackhawks bar, so the pizzeria is a great way to catch a sports game and they offer some great drink specials as well at 2207 N Clybourn Ave.
- Paperish Mess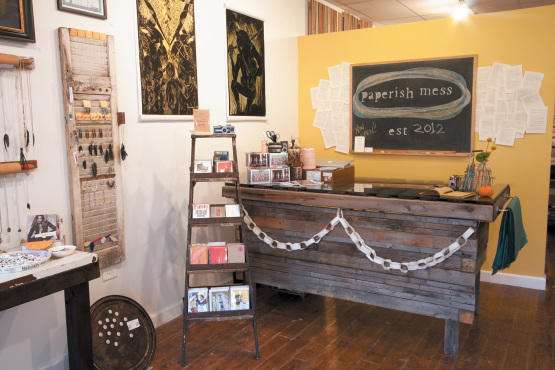 Here's a little secret-  Paperish Mess is awesome.  A small art store that celebrates local & independent art that will make for some great Chicago souvenirs.  The couple that owns the shop are creating quite the local buzz with great reviews.  They also have a small gallery in the back that displays a locally featured artist. So, garb some unique and handcrafted souvenirs at this shop, and visit their shop cat at 1955 W Chicago Ave.
- The Music Box Theater
Technically not a "shop" this historic theater stands as a northside icon.  The Music Box hosts the largest theater space operated full time in the city showing various foreign and independent films.  The theater also shows thematic events like horror & sci-fi fests, classic movies, as well as Midnight Movies every Friday night. Check out this independently owned and operated theater at 3733 N Southport Ave.
-Myopic Books
If you don't mind navigating the immense catacombs of used books over at Myopic Books, you can find some hidden gems.  If you're looking for that cheap novel to read on your travels, or a souvenir for the literary type on your list- this book store is the way to go.  Myopic doesn't stop at being just a great used book dealer, but the store hosts a variety of musical performances and poetry readings.  Get some literature at 1564 N Milwaukee Ave.