The 2nd largest art museum in the United States, The Art Institute of Chicago offers more than 5,000 years of human expression from cultures around the world and contains more than 260,000 works of art.  We have discounted tickets available for $21.00 (regularly $23.00).  Also, our tickets come with the ability to skip lines and see all special exhibits!
Check out their new special exhibit: Impressionism, Fashion, and Modernity.  The last stop on its world tour, the display explores the relationship between fashion and art during these pivotal years not only through the masterworks by Impressionists but also with paintings by fashion portraitists.  It runs through September 29th.   Further enriching the exhibit are fabrics and accessories—lace, silks, velvets, and satins found in hats, parasols, gloves, and shoes—recreating the sensory experience that made fashion an industry favorite and a serious subject among painters, writers, poets, and the popular press.
Need an original holiday gift idea?  Curious about local urban art?  Check some of these local artist run shops…
Sometimes messy is good.  Paperish Mess displays a medley of locally crafted items from colorful prints to flashy flasks, original Chicago memoribilia to hand crafted candles.  Located at 1955 W Chicago Ave in the heart of serene Ukranian Village this shop epitomizes local art with a dinstinctively creative flare.  Drop in and say hi to the owners Lisa & Sean and their adorable shop cat, Mishka.
Stop by our front desk anytime and save on the best Chicago attractions.
Visit the Willis Tower Skydeck & experience the unforgettable Ledge, at 1,353 feet in the air, the Ledge's glass boxes extend out 4.3 feet from the building.  This is the tallest skyscraper in the Western Hemisphere, we have tickets for $14 (regularly $17.50).
Hey art enthusiasts, here's some real groovy art spots to visit while on your Chicago travels…
 The Museum of Contemporary Art is conveniently located right by The John Hancock Observatory at 220 E. Chicago Ave. & it is free every Tuesday.  This museum always seems to offer intriguing temporary exhibits, and the wonderful exterior of the place is worth the trip.
The weather is getting more pleasant, and there's always fun to be had in the downtown area…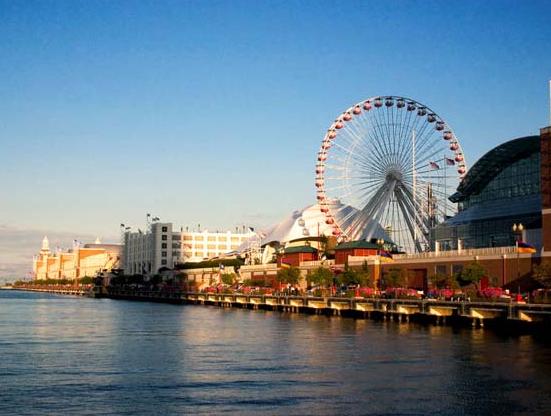 Navy Pier!  Number one on many travel to-do lists, this is Chicago's lakefront playground.  The sight alone is worth the trip down there, and at night it shines bright along the Chicago coast.   Navy Pier features restaurants (we recommend Harry Caray's Tavern),  a giant ferris wheel, an IMAX Theater, Segway tours & a ton of cool boat tours.