Whether you want a chill place to sit & sip delicious coffee, or bring back a great travel gift, here are some of the best cafes the Windy City has to offer….
Intelligentsia.
Now a nationally recognizeable force, Intelligentsia may be the best coffee served stateside.  Whether it's their distinct flavorful House Blend, or the memorable richness of the El Diablo Dark Roast, every cup is brewed to order & everyone should try one.  3123 N. Broadway Ave.  Enjoy a hot cup in their spacious cafe &  buy a bag of their fresh beans to bring back home.
On the subject of discovering some very cool neighborhoods, one must explore the distinct shops, restaurants, and parks of beautiful Lincoln Square.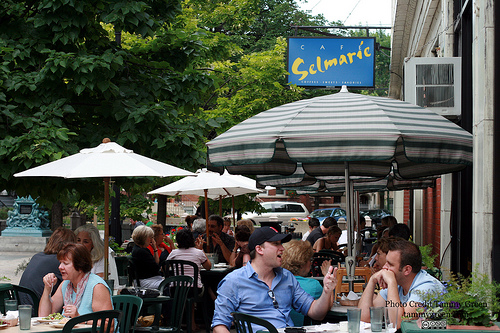 Cafe Sel Marie is located in the central hub of Lincoln Square and has a patio next to a public square on Lincoln Ave, a strip of unique, ethnic, and some family-owned shops to explore.  Not to mention, the cafe's menu boasts pastries & beverages to write home about.