We would like to take this moment to thank all of our past, present, and future guests for their wonderful support as we were recently ranked #4 WORLDWIDE as Best Extra Large Hostel by Hostelworld.com.
*We have also been nominated for an award of excellency at hostelbookers.com which will be out soon, so if you haven't experienced our superior accommodations and brilliant staff, come see what you're missing…
.
Don't forget to find us on:
Autumn is a beautiful & ideal time to visit Chicago.  Here's some reasons why…. 
The lakefront path is a picturesque playground you should be a part of this fall, whether biking, jogging, or walking it,  we are sure it will be a memorable part of your Chicago experience.  In addition, we rent bikes w/ locks: $20 for 3 hrs & $30 for the entire day.
Take advantage of our weekly hostel events that will surely illuminate your stay.
Every Monday we have a FREE Blues Bar Outing to one of our historic neighborhood blues venues.  Whether its the always lively Kingston Mines or the cool low-key comfort of B.L.U.E.S. Chicago, we always have a blast grooving to the music that made Chicago a haven for blues music since the 1920s.  Must be 21 or older.
Thursday Night Pub Crawls!  Our evening of Lincoln Park bar hopping is back by popular demand.  All guests are invited to meet us in our lobby at 6:45pm, as we visit a list of great taverns, pubs, lounges, and bars to take advantage of their Thursday night specials.  Must be 21 or older.
Don't forget our BBQ Nights every Friday & Saturday from 6-8pm.  We serve up complimentary grilled hot dogs and hamburgers to all our guests…this is always a great way to meet your fellow travellers.
*Book your room with us today & find out why we're Chicago's best hostel.
July 15/16/17
Every year we provide our guests with affordable accommodations for Pitchfork Music Festival, this year is no different.  Here's why you should book your room with us today:
In need of some literature amisdt your travels?  Look no further than these formidable book dealers…
Bookworks is AWESOME.  They have a great selection of used & new items including books, magazines, cds, records, and photographs.  They also have some rare stuff, if you don't find the exact book you're looking for, chances are you'll walk out with something as equally cool. 3444 N. Clark St.
Maarten Geinaert hails from Brugge, Belgium but chose Chicago Getaway Hostel as his lodging base for his U.S. travels.  Thus far, he's having a great time, we sat down with him one late night and got his recommendations….
We have a tremendous deal for you.  Chicago Pedway Tours are only $5.00 for our guests (regularly $15.00).  We sat down with multi-talented improviser and tour guide extraodinaire, Margaret Hicks.   She hosts a tour through heated walkways, passages, and tunnels as you will discover some awesome Chicago spots.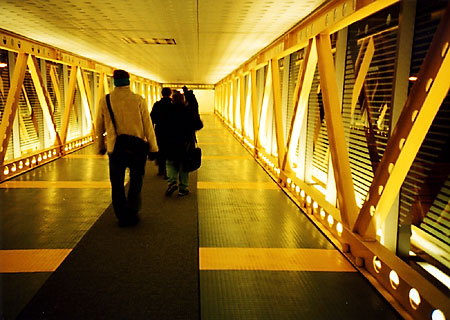 So many museums, so many exhibits, and a whole lot of free days!
Dinosaurs, Ancient Egypt, Lions of Tsavo…sound interesting?  Visit The Field Museum for a trip that's always fun & informative.  Located in the Museum Campus, this place combines history and biology and is well-worth it for any museum enthusiast.  Upcoming free days: Jan: 31st, Feb: 2nd, 3rd, 8th, 9th, 14th, 15th, 17th.
Here's a few reasons why you should book your stay with Chicago Getaway Hostel for February, March, April, and May or just about every day…
The leaves have changed and Autumn has painted our city with its beautiful Fall colors.  We invite you to come explore our magnificent town and take advantage of our weekly events.