Fans of architecture should rejoice, Oak Park is a neighborhood that blossoms with distinctive aesthetic structures, mainly because Frank Lloyd Wright left a sizeable mark on this Chicago neighborhood.  Between 1889 & 1913 he designed 25 houses in the area.  Many of them are nominated as National Historic Landmarks.  Here is a compiled list of tours available for discovering the architecture of one of America's most renowned architects.
On the subject of discovering some very cool neighborhoods, one must explore the distinct shops, restaurants, and parks of beautiful Lincoln Square.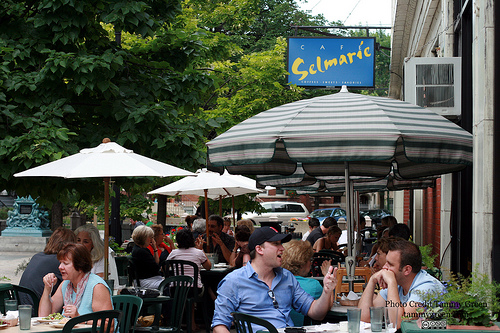 Cafe Sel Marie is located in the central hub of Lincoln Square and has a patio next to a public square on Lincoln Ave, a strip of unique, ethnic, and some family-owned shops to explore.  Not to mention, the cafe's menu boasts pastries & beverages to write home about.
It's no wonder a lot of travellers set their sights on this south side neighborhood…
Enjoy the exhibits of the largest science museum in the Western Hemisphere.  Whether it's a stroll through the German U-505 submarine, or catching a glimpse of the Science of Storms, The Museum of Science & Industry does not disappoint. 
Dear Traveler, we will let you in on a little secret.  Part of why we are the best hostel in Chicago is because of our beautiful neighborhood, Lincoln Park.  In fact, our neighborhood is better than downtown in so many ways.  Come see why we were voted the 5th best hostel in the U.S. for the month of May!