On the subject of discovering some very cool neighborhoods, one must explore the distinct shops, restaurants, and parks of beautiful Lincoln Square.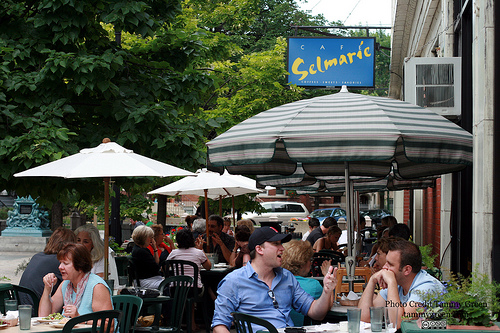 Cafe Sel Marie is located in the central hub of Lincoln Square and has a patio next to a public square on Lincoln Ave, a strip of unique, ethnic, and some family-owned shops to explore.  Not to mention, the cafe's menu boasts pastries & beverages to write home about.
Chicago has a rich history of gangsters.  Here at the Chicago Getaway Hostel, we know this and can recommend some really cool historic sites & tours….
We are a city of neighborhoods, and this makes our town a diverse and beautiful playground for travel.  Here are just a few excellent locals to experience…
Lakeview, home of The Chicago Cubs, about a dozen vintage clothing shops, record stores, restaurants, an independent film theater, a myriad of bars, and the list goes on and on.  This neighborhood is within walking distance to the hostel (just make a left on Clark St.).  We recommend exploring this one.