It's winter.  What better way to explore Chicago than the wonderful indoor attractions offered through a splendid discount with Chicago' CityPASS. We have it right here at our front desk for $76.00 ( save 50%), and as a CityPASS holder, you have unlimited access & bonus incentives to the following:
Here's some must-see productions for your itinerary on a Windy City winter night…
According to the Neo-Futurist hotline, snagging a seat to the 19-year-old, late-night show Too Much Light Makes the Baby Go Blind involves getting there at least 45 minutes in advance and standing in line outside the Nelson Funeral Home (located at Clark & Foster in Andersonville).  The admission price depends on your luck with a pair of dice, but one thing is guaranteed- you won't regret sitting through this lively long on-going show.
We have a tremendous deal for you.  Chicago Pedway Tours are only $5.00 for our guests (regularly $15.00).  We sat down with multi-talented improviser and tour guide extraodinaire, Margaret Hicks.   She hosts a tour through heated walkways, passages, and tunnels as you will discover some awesome Chicago spots.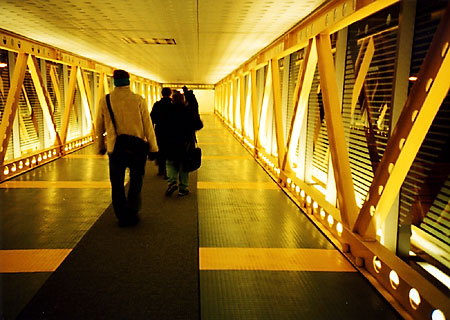 Coming to our beloved city in the winter season? Don't mind some cold temps, there is a beautiful side of Chicago to explore this season: